Red Meadow
Bike

2017 Salsa Woodsmoke (Smokey)

Tires

Maxxis 29x2.3 Aggressive Tread

Route

GPS Data

Surfaces

70% Gravel or Dirt Road, 20% Paved Highway, 10% Singletrack Trail

Bags

Ortlieb Seat-Pack, Salsa EXP Cutthroat Framebag, Salsa EXP Gas Tank, Dry Bag strapped to handlebars

Pack List
Day 1
Whitefish Bike Retreat
The wife insisted we camp around Glacier National Park the week before my cousin's wedding this summer. Her version of camping is pulling the car into a reserved clearing complete with picnic table and latrine, and flopping down a tent the size of a small cabin. I can't say I'm a fan of this style of camping, especially when it involves being closer to your neighbors than you are at home. So, I took advantage of the situation and suggested we spend a few of those nights at the Whitefish Bike Retreat; a compromise that worked out well for both parties, including the kids. We were able to enjoy a few hours on well-groomed trails, a skills park, and pump track, while she was blessed with a clean bathroom, complete with shower.
I began my ride around the Whitefish mountain range at 10:00am on the fifth of July, after a night of enjoying fireworks over the lake. By staying at the resort, I was able to pedal from the front of our tent directly on to a connector trail that lead to the appropriately named Whitefish Trail. Seven miles of sublime single track was a great way to start the trip. These trails are well maintained and donned with historical and ecological markers. I'm going to assume that the reason why I saw so few people on the trail was due to the date and time. Any other day would see far more people to such a wonderful trail system.
The GPX route I obtained online had me starting in the town of Whitefish. By looking at trail and Forest Service maps, it seemed easy enough to head north from the bike retreat to meet up with Upper Whitefish Road. After the trail ended, I quickly realized this was not the case. The old Forest Service (read logging) road that was to connect me to the public road system was gated off to vehicle traffic and almost completely overgrown. At this point I was thankful to have my new Garmin Oregon device, but still regretful that I had not planned more thoroughly. Slowly but surely, I was able to bushwhack my way through the next four miles, which included a jaunt along the Great Northern railroad. There may have been a bit of trespassing involved here, but I was not about to add an extra twenty miles to my trip by looping around the southern end of the lake.
By noon, I had hit Upper Whitefish Road, which would take me up and over Red Meadow Pass and almost the entire way to my evening stop at Polebridge. The first eighteen miles was a pleasant, gradual climb on a road that did not reflect the typical Montana gravel. There wasn't a washboard to be seen. In fact, the only washboards I had to deal with the entire trip were in a short five mile section of the Outside North Fork road just before Polebridge.
This section of the Upper Whitefish Road did have everything you'd expect to see in rural Montana, though. ATVs, big pickup trucks, and target shooting on the side of the road. Thankfully, I had remembered to wear my bright orange shirt even though it wasn't hunting season. Even still, there were a couple of target chasers that refused to stop pulling the trigger until I verbally notified them of my presence. I can't complain. They are completely within their rights in this location. And, I have to say that these are some of the most courteous drivers I have ever seen. Every single person who passed me had come to a complete stop until I was by, not only to give me room, but to make sure I wasn't riding in their dust. One pair of younger guys in a high clearance truck even stopped to offer me a beer.
The last two and a half miles of uphill before Red Meadow Lake was short but gruelling, gaining nearly 1000ft. However, the views near the top made it all worthwhile, and the pristine alpine lake was absolutely gorgeous. But, the icing on the cake was the knowledge that the rest of the first day would be entirely downhill.
The next seventeen miles that brought me into the "town" of Polebridge was over far too quickly. Immediately upon arriving, I notice another bikepacker has made the stop to refuel. A gentleman from Norway on his way to Antelope Wells, New Mexico, following the Great Divide Mountain Biking route. He had just picked up some grub from the Mercantile and would be headed south on the Outside North Fork Road. Heading in opposite directions we weren't able to chat for long, but we wished each other well and went on our respective way. Hopefully some day soon I will be following in his footsteps.
That evening, I found myself dining on a surprisingly delicious pork enchilada with a side of beer at the bar. Food always tastes better after a fifty mile bike ride. I finished up the night with a slice of huckleberry pie while watching drunk tourists fumble around the volleyball court before heading a mile up the North Fork Flathead River to set up camp in a secluded little nook.
52 miles
Day 2
Inside North Fork Road
The one thing Polebridge is known for is the Mercantile and their huckleberry bearclaws; a sickeningly sweet pastry the size and shape of a young grizzly's forefoot. I had been there before and wasn't really a fan of the bakery. Everything is made the day before, so the pastries are rather stale and dry. But, when in Rome and in need of carbohydrates for the day ahead. I enjoyed my huckleberry treat while trading stories with a through hiker on his way to Washington.
There's a little known entrance to Glacier National Park just east of Polebridge, complete with ranger station and fee collection site. Thankfully they were able to accept credit cards (how do they get internet way out here?), so I was able to save the rest of my cash for a much anticipated post-ride beer. Upon greeting the ranger, I had expected her to give me the speech,
"Do you have bear spray? Do you have three? You WILL see a grizzly here. And, you WILL be eaten alive."
I had already heard this speech many times before, mostly from concerned family. One of my primary reasons for doing this particular ride was to get over my own fear of riding alone in grizzly country. But, what she actually said was,
"You are about to enter the most wild and beautiful section of National Park in existence. You'll have a fantastic ride! Take your time and enjoy!"
Thank you, random forest ranger! You've calmed my nerves enough to begin the journey. Even still, I would be counting the miles to Lake McDonald, 25 of them, every tenth of a mile, loud enough for all wildlife to hear me passing through.
The first eight miles were uneventful. It's open to vehicle traffic, but I didn't see a single vehicle until reaching the gate at Logging Creek ranger station. Strangely enough, the only person I saw was a lone man going for a morning jog a few miles from the entrance. He said hi and waved as I passed, so it was obvious he wasn't running from anything.
The road closes to motorized traffic at Logging Creek and becomes rough and overgrown rather quickly. There are a handful of steep climbs and descents as the road meanders from one glacial drainage to the next. One short section was completely washed out from the unusually wet winter and spring. The Anaconda creek had overtaken the road, which required me to hike-a-bike and leap from side to side several times. Wildfires from years before have made most of the forest in this region thick and stocky. This made it necessary to ride much slower than normal as to not surprise any furry friends around concealed corners. I continued to count the miles aloud.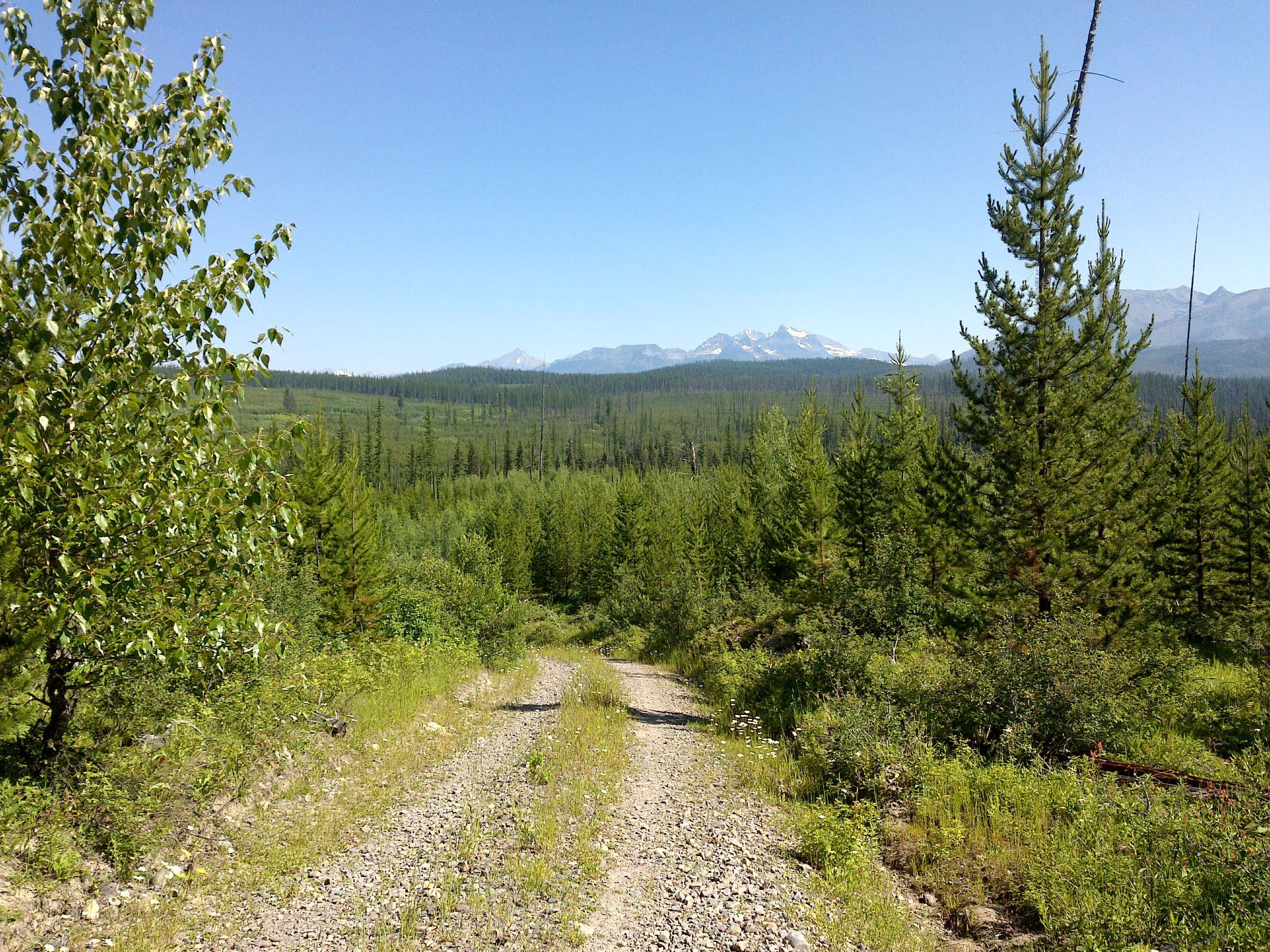 I can see for miles and miles.
Fortunately, I made it the entire way to Lake McDonald without running into a bear. I did, however, spot one lone hunter on the road. A grey wolf heard me coming and was already trotting away before I was close enough to see him. Now my fancy new GPS unit has a built-in camera, so I was able to quickly snap a photo before he darted into the thickets. It wasn't until a few miles later that I see a sign warning of the wolf pack to the northeast. This was definitely not a common coyote.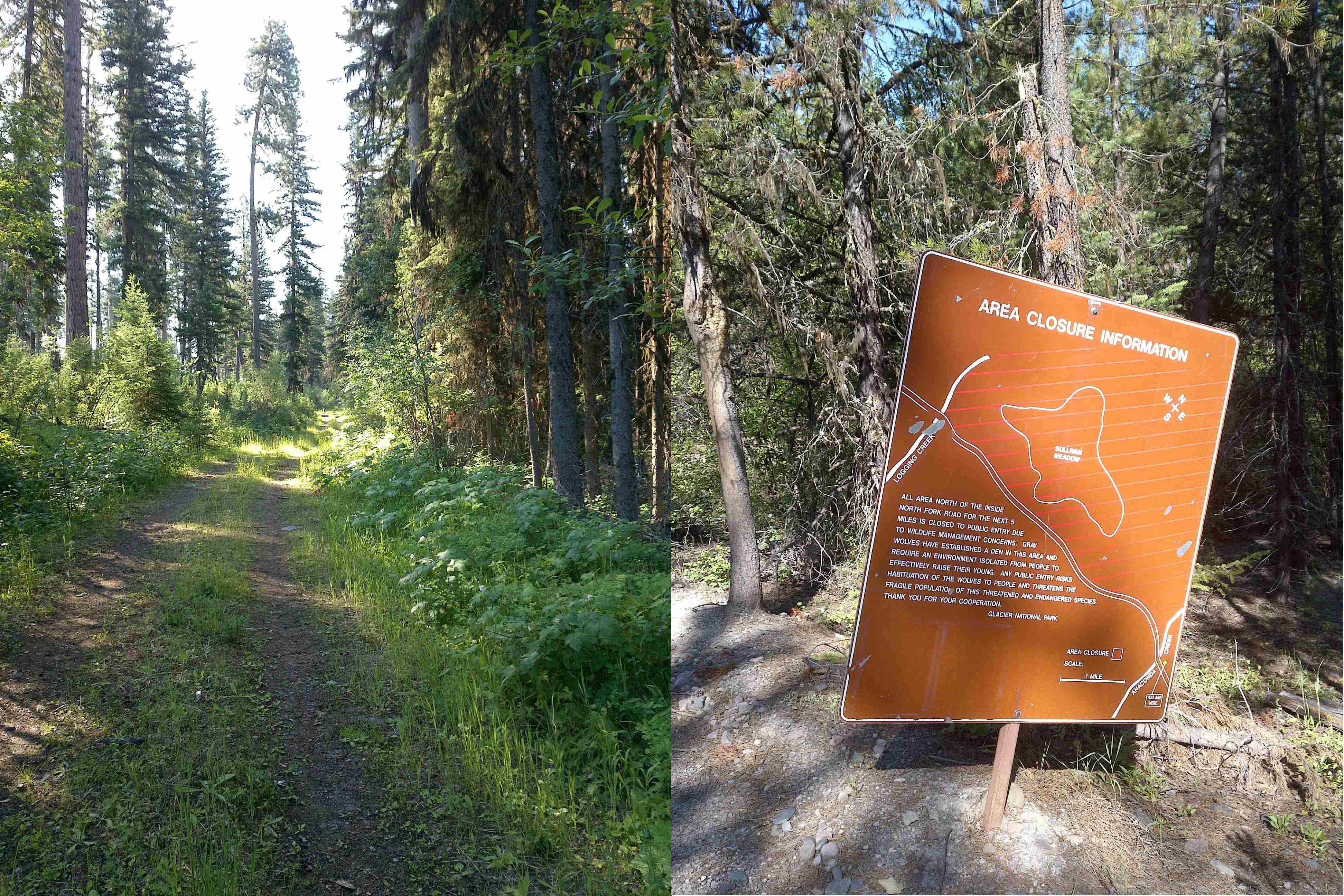 The wolf - barely visible at the end of the road.
Once at Lake McDonald, the first view of Glacier Park for most visitors, I had planned on a quick lunch break at Apgar. But, entranced with the wonderful bike trails my route had me on, it wasn't until a mile after that I had realized I missed the turn off. At that point I was closer to West Glacier. So, I pull into a touristy restaurant and ice cream parlor to get myself some Sweet Peaks ice cream and Montana Coffee Traders cold brew.
"Hey Joe!"
I hear as I unstrap my helmet. Coincidentally my brother and his family, who are also in town for the wedding, come strolling out of the same restaurant. They are on their way up Going to the Sun road for the day. It's funny how such a grand area can seem so small.
At West Glacier I was only halfway into my day's ride, but it felt as though it were already over. At this point the remaining roads, although primarily unpaved, were through populated areas. The route took me almost directly west, through the recreational lands known only by locals. You won't see many tourists in these parts. What land isn't privately owned is either Forest Service or owned by a logging company. A few miles of the route, owned by F.H. Stoltze Land & Lumber, was under active logging and closed to vehicle traffic. Signs advised of the private land, but allowed for non-motorized recreational use.
A few miles of pavement brought me back into the heart of Whitefish. I put my legs up on the lawn at Bonsai Brewing Project and enjoyed that post-ride beer while I waited for my ride to the next adventure.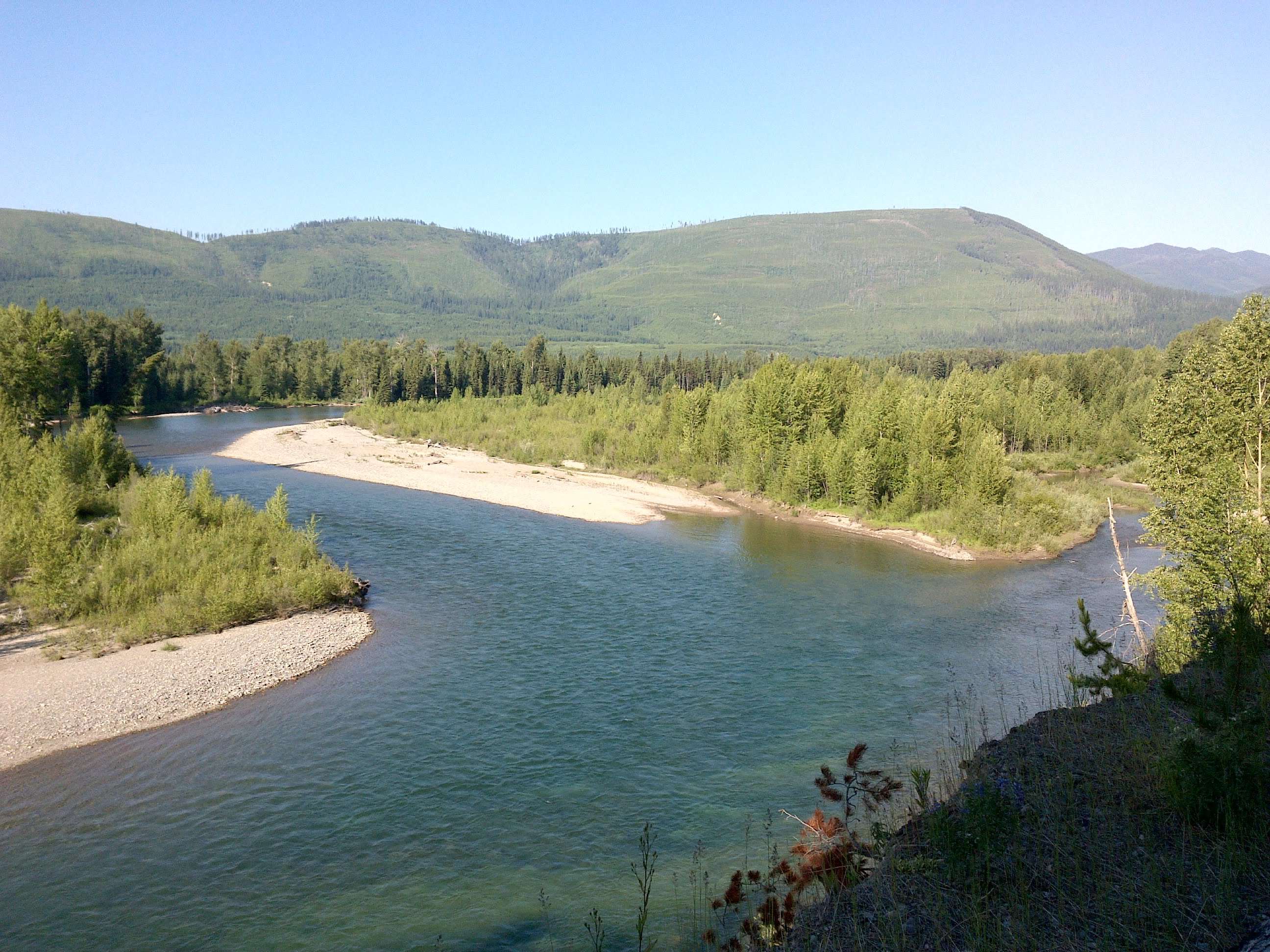 North Fork of the Flathead River.
58 miles (110 total)